Since the start of 2021, Guapcoin has experienced numerous updates and network enhancements. In terms of growth, in May of 2020 GUAP Coin had  244 active master nodes with 2,464 unique addresses and a market cap below 1 million dollars. As of today our numbers have increased tremendously. According to the GUAPCoin Explorer, there are 925 master nodes, 9,280 unique address and a market cap of over 8 million dollars. That's a huge turnaround for a cryptocurrency in such as short amount of time; so we are extremely excited in terms of continued growth.
Rosetta API Integration
The GUAP Coin Foundation is preparing its blockchain to be easily integrated onto more exchanges. The first step to making this happen is by integrating the Rosetta API into GUAP Coin's blockchain. We are still in the developmental phase and the code is currently being tested, however, anyone is welcome to contribute to our efforts by visiting our the GUAP Coin Github by clicking here. To learn more about the Rosetta API click here.
Guapcoin Sees a Spike in Price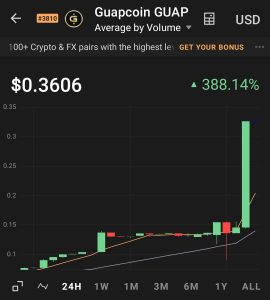 In other major moves Guapcoin experienced a surge in price as ongoing demand to buy the rare coin elevated its price above $0.38, meanwhile, buyers seeking more GUAP continue to scour exchanges with hopes of increasing their Guap holdings while some are rapidly acquiring masternodes to receive rewards.  Guapcoin had its first newspaper mention in Pace News, so please be sure to read and share that article. Overall, the community pulse of Guapcoin is ramping up and garnering a lot of attention from more reputable people such as Natalie Jackson, Esq.   Founder Tavonia Evans is also featured in Pitchbook as one of The Top-53 Founders and Investors to Watch in 2021.
Guapcoin's  previous high of $0.08 cents was demolished as the community has tripled in less than 2 months ushering in new wallet users. From a price perspective, there's been a lot of buying pressure which caused the spike hike to $0.36 and settle at nearly $0.21. We expect continued growth as more features and services are rolled out by businesses that support Guapcoin as a form of payment. Among these services is the car rental company Ryntol ,which has now started to accept Guap!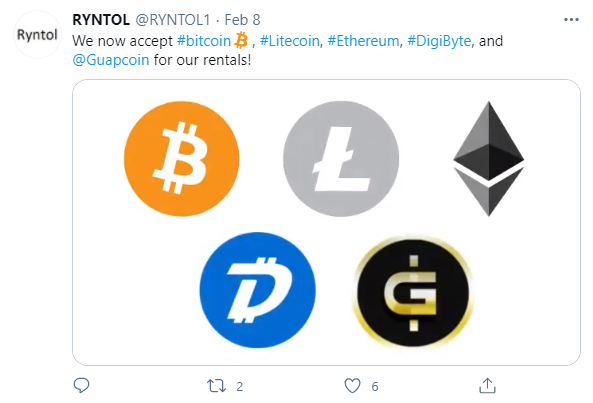 Launch of GUAP University
The Guap Foundation has also launched an exclusive learning platform to bring its community up to speed on the different facets of cryptocurrency and blockchain technology. There are featured courses pertaining to Guapcoin at guapuniversity.org for free. These courses range from education on how to back up a mobile wallet, Guapcoin Explorer training, desktop wallet tutorials, creating paper wallets and more. These courses include quizzes to ensure the students retain an understanding of the information they have learned. The Guap Foundation is working on implementing a plan for subject matter experts to become instructors on the website.
Launch of The Guap Foundation, Inc.
The Guap Foundation has been very active behind doors and working on several major projects that are set to bring greater value, use cases and to improve the Guap ecosystem as a whole. The details are under wraps; however, work has began on the Guap Foundation website and several initiatives such as building the test and dev network designed to implement and integrate proposed features.  New members have been added to the core and governors groups and are expected to support developments as well. Stay tuned for more updates!